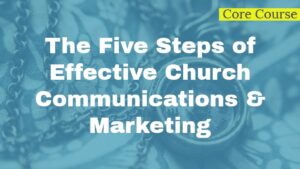 Following is the description of the course, The Five Steps of Effective Church Communications and Marketing. This course in the Church Communications Training School, a ministry of Effective Church Communications.
The course consists of 7 videos (75 minutes total) of instruction. There are PDF notes for all the videos as well as audio files you can download for review. All of the courses in the school are one rate, $10 a month, $99 a year, or $299 Lifetime Membership. As a member of the school, you have permission to download the course (videos and handouts) and share it with staff and volunteers in training sessions.
Overview of the course
This is the foundational course for effective church communications in that it will show you how to intentionally use your all your communications to take people from outside the church and develop them into disciples of Jesus through the steps of:
**INVITE
**INFORM
**INCLUDE

**INSTRUCT
**INSPIRE
The training in this course for each step gives you the reasons and purpose for that step, tells you the most important communications in it, and gives you tips on communications in both print and digital format that will accomplish the goal of that step and move people to the next one in their spiritual journey, all the while keeping a focus on the North Star of Effective Church Communications which is to fully fulfill the Great Commission.
The design, style, and looks of the communications will be unique for every church (and tips on how to make the most of these areas are in other classes in this school); this course gives your the foundational strategy and Biblical encouragement for why you do the hard work you do.
This course was developed by Yvon Prehn from decades of working in church communications and draws together the scattered hard work of church communicators into a strategic whole.
Today so much church communication focuses on the latest design trend or social media or technology update and while these are all important and have their place, they are secondary to how our church communications need to be about fulfilling the goals of the church of helping people come to know Jesus as Savior and grow to disciple maturity in Him.
Below is a PDF of the chart that summarizes the course. You will be able to download a copy of it when you sign up for or preview the course, following the PDF is a link that will take you to the course. It is part of our Church Communications Training School.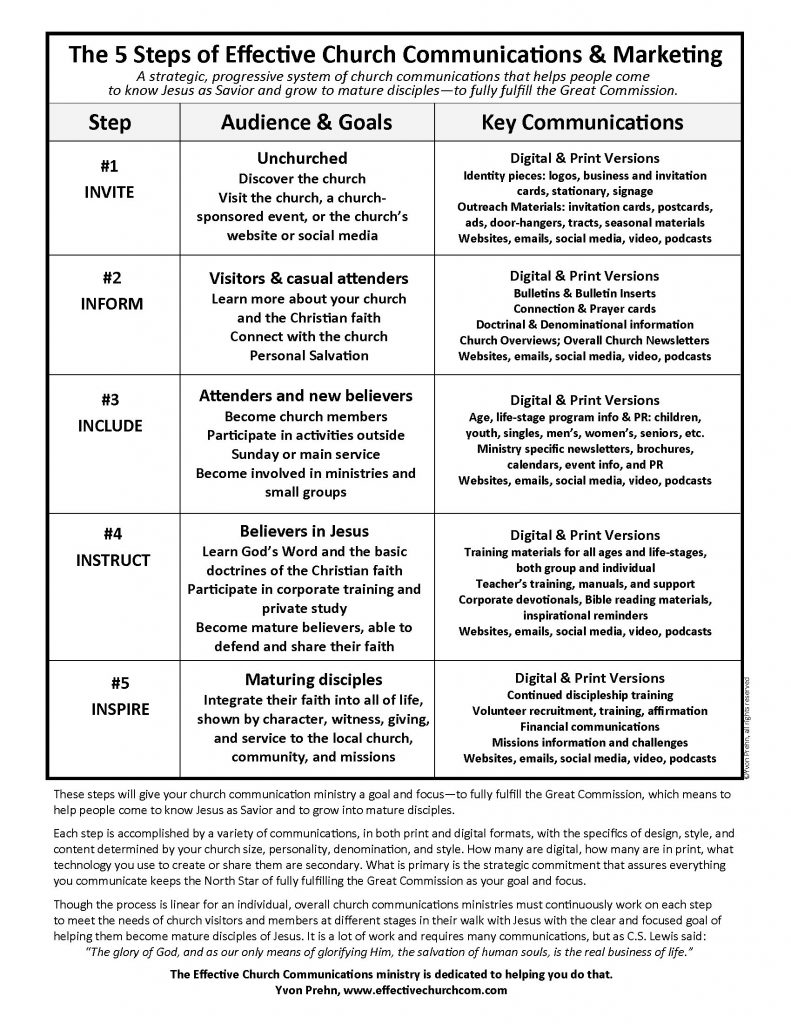 Click on the link below to find out more about the class and to sign up for it:
https://church-communications-training.teachable.com/p/the-five-steps-of-effective-church-communications-and-marketing