Connection Cards are vitally important for your Mother's Day outreach success, because if visitors don't give you their contact information, you won't be able to follow-up with them. You might have a huge attendance on Mother's Day, but if the next Sunday is back to your usual numbers, you've missed a great opportunity to connect.
If you give church visitors an opportunity to share a question or a prayer request, you will be amazed at how many people will share with you. If you follow-up promptly and compassionately, you will make a significant connection.
To save you time in this important task, I've created some cards that are ready for you to print and use. The files below are part of a ZIP file below.  For each of the cards illustrated below it has:
A PDF ready-to-print file
Editable MS Publisher file
PNG image (perhaps you want to add it to a PowerPoint announcement and encourage people to fill it out)
Additional designs of Mother's Day Connection Cards
This file is FREE and the link is at the end if the article.
The additional designs: various styles, clipart, photo images, spot color of the Connection Cards that are in the ZIP FILE: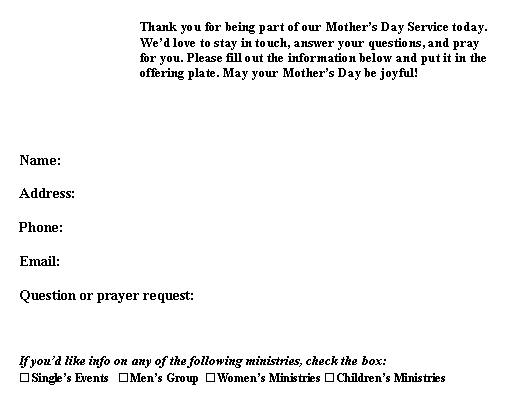 FREE DOWNLOAD OF ZIP file:
CLICK HERE to download your file.