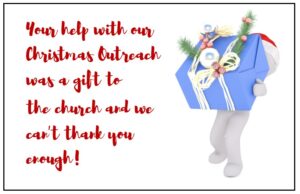 I'm sure all of your Christmas special programs were an incredible success—thanks in large measure to the hard work of your many volunteers. And I'm sure you want to take time to thank all of them, but have little energy to do it. Effective Church Communications can help in that we have a set of Christmas Thank-You cards. The main message is on the front and on the back all you have to do is write a short note in the half of the card across from the address.
Before the year starts in all it's demands (and Easter will be here sooner than we can imagine), take the time to do this. It's wonderful for your volunteers and pleasing to our Lord who commands us, "In everything to give thanks" (1 Thes. 5:18).
Below is a gallery of the cards.
CLICK following to download the ZIP FILES: christmas-thank-you-cards